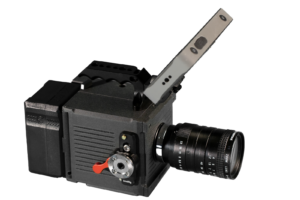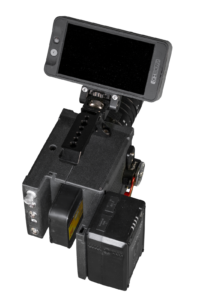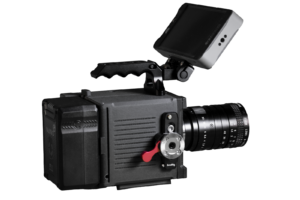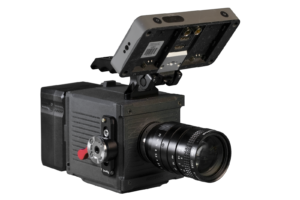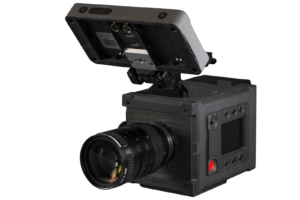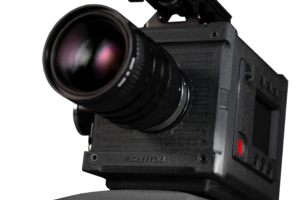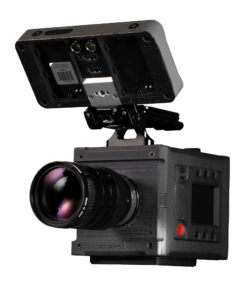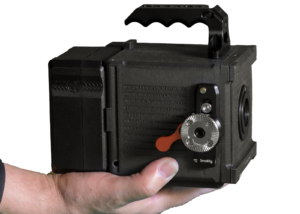 Please note that the pictures are of our 3D printed prototype camera and hence the build quality is notably poor – the real production model will be built in aluminum.
Camera is shown with following non-included accessories: Lens, NATO Rig ARRI Rosette, NATO Rig handle, Small-HD 502 3G-SDI viewfinder, CoreSWX battery, Kodak Super8 Film
The Gentoo is a rental camera designed specifically towards production companies, rental-houses and studios wanting 16mm like image quality with the cost and convenience of 8mm.
The Gentoo is built to be the most versatile 8mm camera for any storyteller wanting reliability and the ultimate creative freedom as it comes with on-camera support for NATO rigging, cheese-plates etc. allowing you to easily customize it.
Gentoo sports modern amenities such as industry standard V-Lock allowing you to shoot hours of footage on a single charge and quickly being able to swap the battery in the field seamlessly or power the camera from another power source such as a drone, Steadi-cam rig, car battery etc. 
More importantly it features an extremely low light capable viewfinder which provides critical focus through an 1080p60 resolution ultra-fine grid ground-glass meaning that never has it been so easy to get focus right.
Gentoo is also the first 8mm camera to introduce pin registration without the need to form a Latham loop. This unique Logmar invention provides image registration within the exposed frame on a standard 50ft Kodak cartridge and not at the next image like our former Chatham camera, meaning that scanned footage will yield the best possible result.
The Gentoo is a "slot in" cartridge camera where you only need to insert a re-useable spacer in the regular Kodak cartridge to obtain true pin registration and away you go.